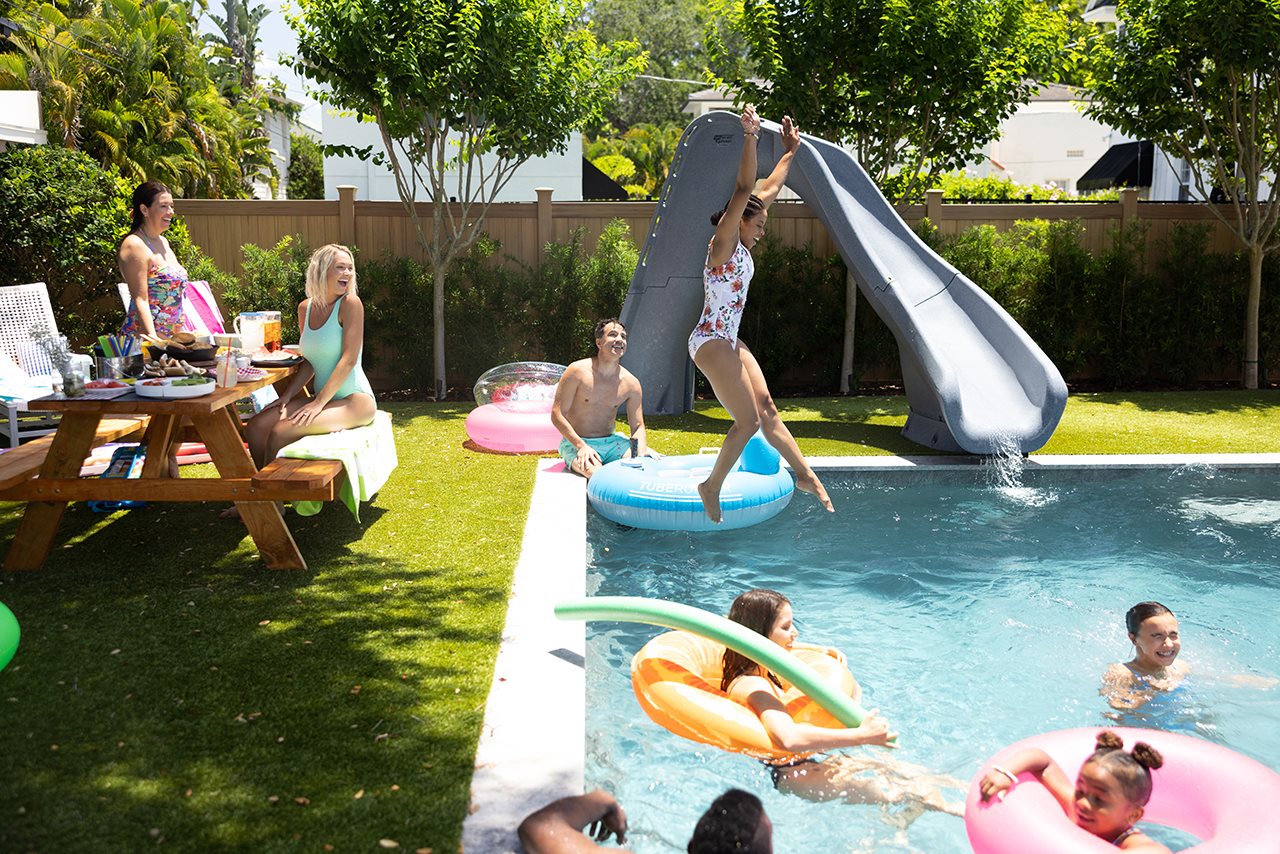 (BPT) – When the sun is out and your pool is beckoning you from the backyard, there's nothing better than inviting friends and family over to enjoy it with you. Before you send out the invites, however, you'll want to do some prep so your pool area is clean and set up for fun.
Here are some tips from Leslie's on how to prepare your pool and the surrounding area for an amazing shindig, as well as making sure you do some post-party cleanup.
Pool party checklist
First and foremost, you'll want to be sure that your pool water is not just temptingly clear and sparkling to look at, but also completely safe and comfortable for guests to enjoy swimming in. Then you'll want to supply enough entertainment and refreshments for everyone, and be prepared for whatever occasion you may be celebrating.
1. Make sure you have clean, safe, beautiful water
Before your party, you'll want to thoroughly clean the pool: Skim, brush, vacuum and/or run your automatic pool cleaner to remove any visible dirt and debris. Then you have to make sure the water is safe for swimming.
Test the water: Proper water chemistry and sanitization is central to any successful pool party. If the water's not safe to swim in, there's no pool for your party! Your local Leslie's can help. Just bring in a water sample for a free in-store AccuBlue® 10-point water analysis and step-by-step treatment plan to make sure your water is healthy.
Balance water chemistry: Using Leslie's recommendations will ensure that the total alkalinity, pH, calcium hardness, cyanuric acid and other factors are perfectly balanced. This will not only protect your pool and equipment, but will help your sanitizer work most efficiently and keep the water clear.
Shock the pool: A day or two before the party, shock your pool to ensure the water is sanitized and that you'll have adequate sanitizer levels to keep up with the extra contaminants in the water. Make sure the levels of free chlorine are between 2.0-4.0 ppm (parts per million) before swimming.
2. Set the scene for fun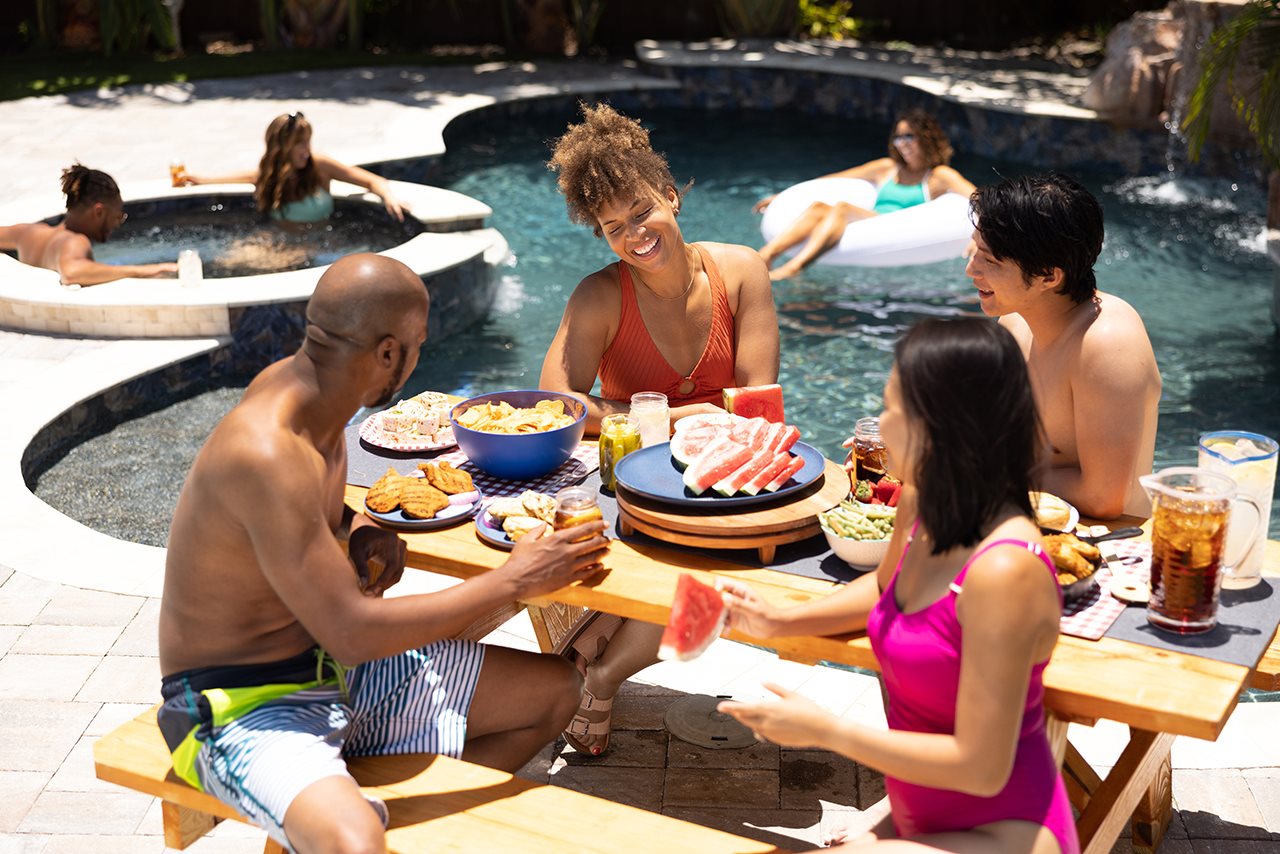 Make sure you have enough of everything for the number, and ages, of guests you're expecting, including:
Patio furniture, including comfortable chairs, tables and umbrellas for shade, so your guests can sit and eat or just hang out.
Fun pool floats and relaxing loungers for guests to soak up the sun in the pool.
Outdoor toys and games that are age-appropriate, to keep everybody happy and entertained.
Waterproof Bluetooth speakers to pump up the jams.
Food and refreshments, including plenty of water so everyone stays hydrated. Leslie's also carries Broil King Barbecue Grills so you'll be ready to feed your hungry crew. Remember, no glassware near the pool!
Themed decorations are encouraged! Whether you're celebrating Independence Day with patriotic decor, a graduation or birthday party, some streamers, banners and other decorations will make your party even more festive.
Extra towels and sunscreen on hand for your guests to use, if needed.
A water watcher to ensure water safety at all times. Designate a responsible adult or two to supervise swimmers and help everyone understand the pool rules. Encourage breaks every 45 minutes to rehydrate, use the restroom, and apply more sunscreen.
3. Do some post-party cleanup
When the party's over, it's time to clean up so you'll be ready for the next one! Keep a few pool cleaning tips in mind to speed up the process.

Pick up around the pool, then safely store any extra floats and toys.
Skim, brush and vacuum the pool after the party to remove debris in the water.
Balance the water chemistry and shock the pool again.
Run the pump and filter to clear up the water and disperse chemicals.

Replace pool care equipment that you may have removed ahead of the party, like automatic cleaners, floating chlorinators or other pool care items.
Consistently cleaning your pool and testing your pool water while the weather is warm will ensure that you and your family – plus any party guests you happen to invite – can comfortably and safely enjoy making a splash.