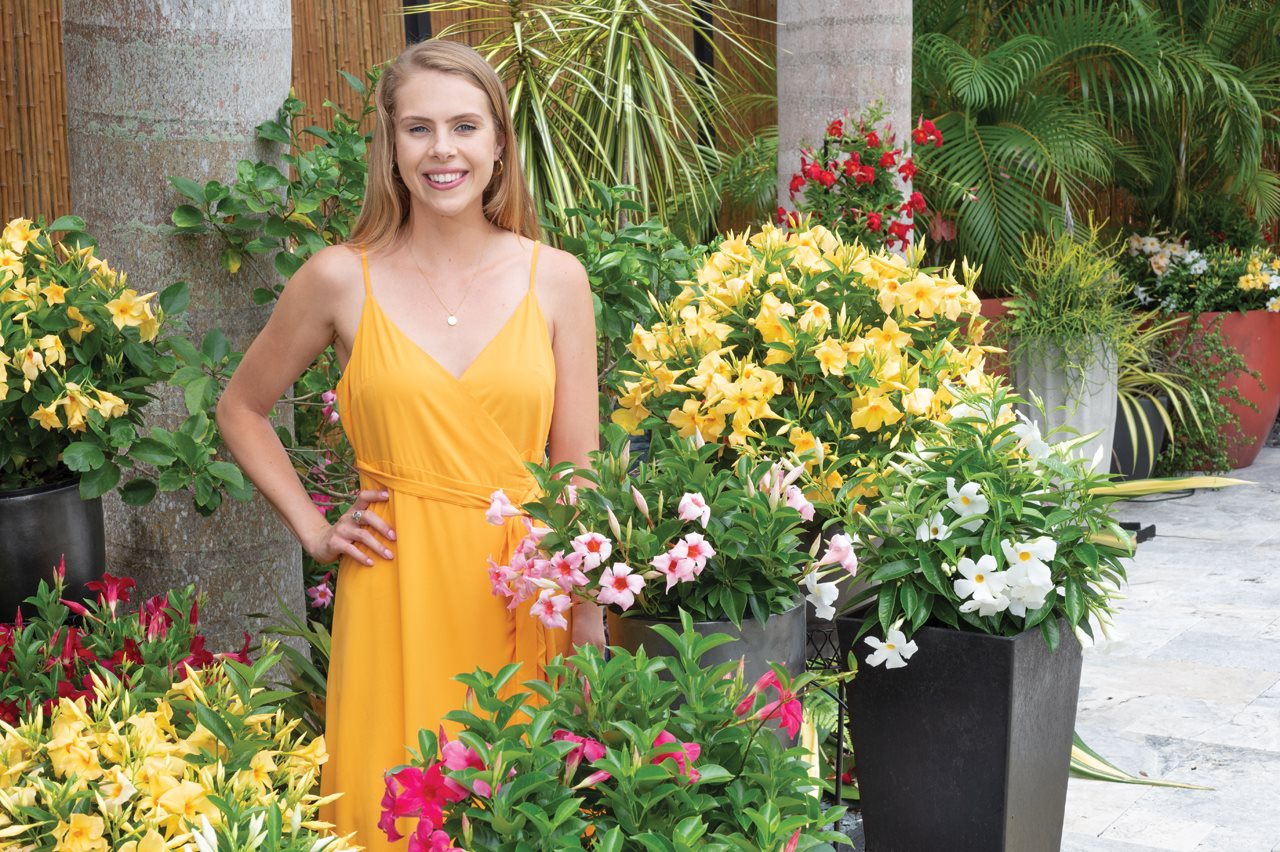 (BPT) – In the summertime, with the sun shining and warm breezes blowing, there's nothing like having a beautiful tropical oasis to enjoy. What could be better than basking in this atmosphere in your own backyard? The key to creating your paradise at home is using flowers with vivid colors and fragrant scents to turn your ordinary yard into a serene, beautiful utopia.
Here are tips from Suntory Flowers to help you make the most of the season by creating a garden or patio worthy of the tropics, thanks to heat-loving Sun Parasol mandevillas.
1. Embrace color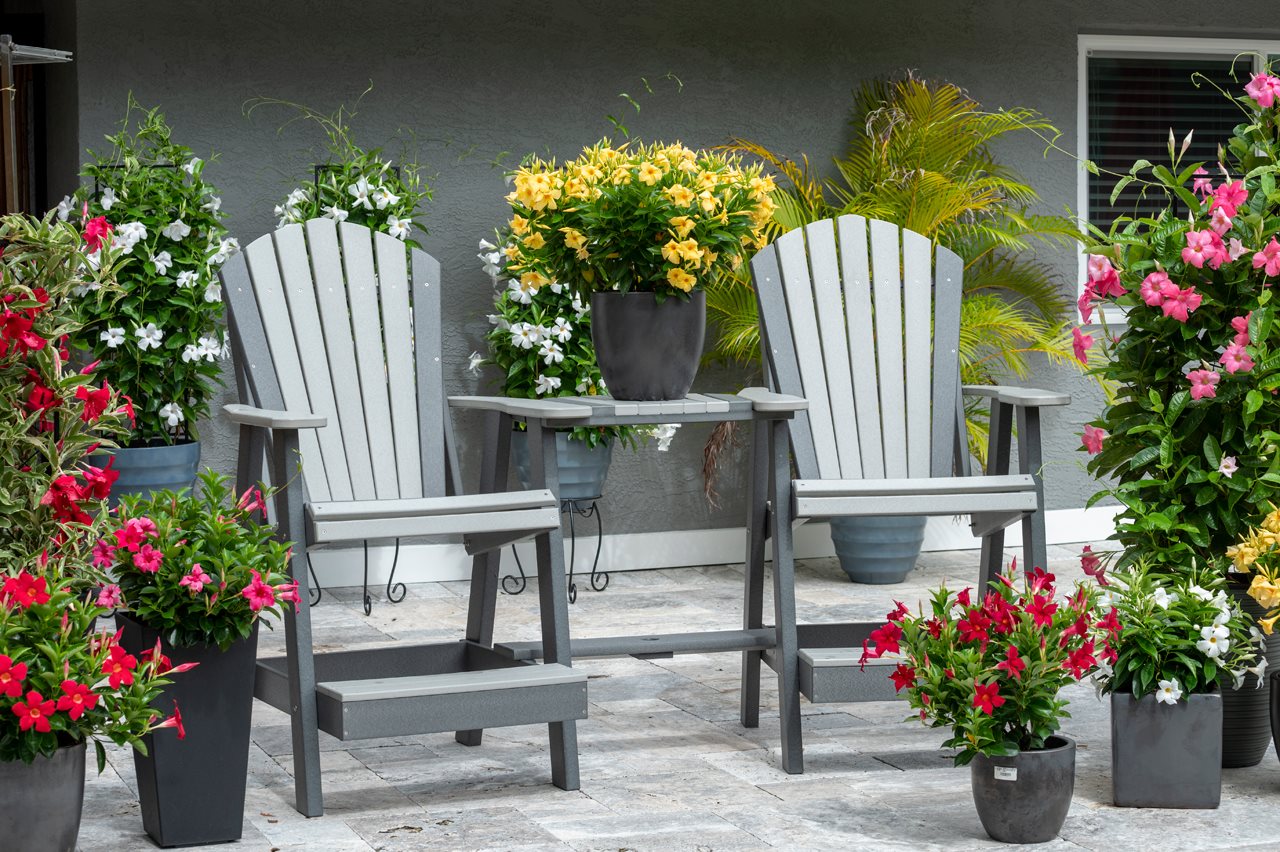 Don't shy away from vivid colors when choosing flowers for your oasis. You can turn to bright, cheerful Sun Parasol mandevillas to bring your yard to life and a smile to your face. Like all truly tropical flowers, they thrive in direct sunlight and bloom all summer long. Check out the array of colors in each group of Sun Parasol mandevillas:
Original Group – While compact and branching, these flowers can also be trained to trellis. Colors include Crimson, Dark Red, Pink, Cream Pink, White and novel Stars and Stripes, which have white streaks from the center.
Giant Group – With extra large flowers and leaves, these mandevillas create dramatic flowering vines in colors like Giant Crimson, Giant Pink, Giant White, Giant Dark Pink, Giant Pure White and Red Emperor. Giant Marbled Crimson also has striking bright white variegated foliage.
Pretty Group – This heavily branched and vining plant produces smaller leaves and smaller flowers, but also the highest number of flowers, which creates a stunning trellis. Colors include Pretty Pink and Pretty Crimson. This variety is the most cold tolerant of the groups, making them popular in northern states.
Garden Group – These can be planted in beds or patio containers as well as hanging baskets, as they cascade gracefully. Colors include Garden Crimson and Garden White.
You can also choose Sundenia Coral's unique shade, a warmer light red with pink and orange undertones, or Sun Parasol Apricot in larger, light peach-colored blooms.
2. Reach for the heights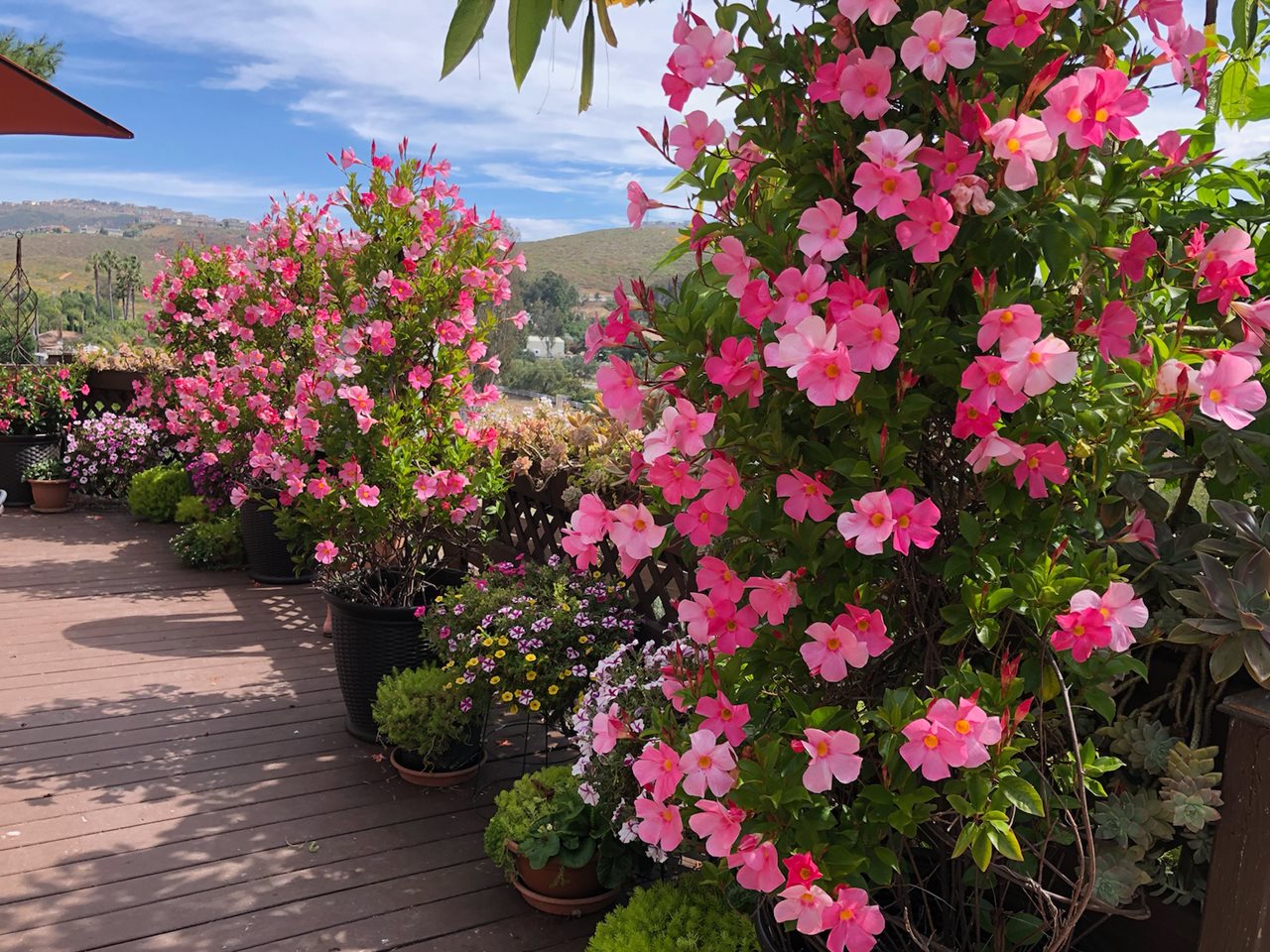 To create greater visual interest and make the most of each mandevilla group, vary your flower presentations in terms of height as well as color. Here are some ideas:
Create a living wall of flowers by using varieties that work best on a trellis
Frame a doorway or garden entrance with pots of mandevillas, using strong supports to encourage them to climb upward on either side
Use hanging baskets to enjoy cascades of colorful blooms from above
3. Vary your vessels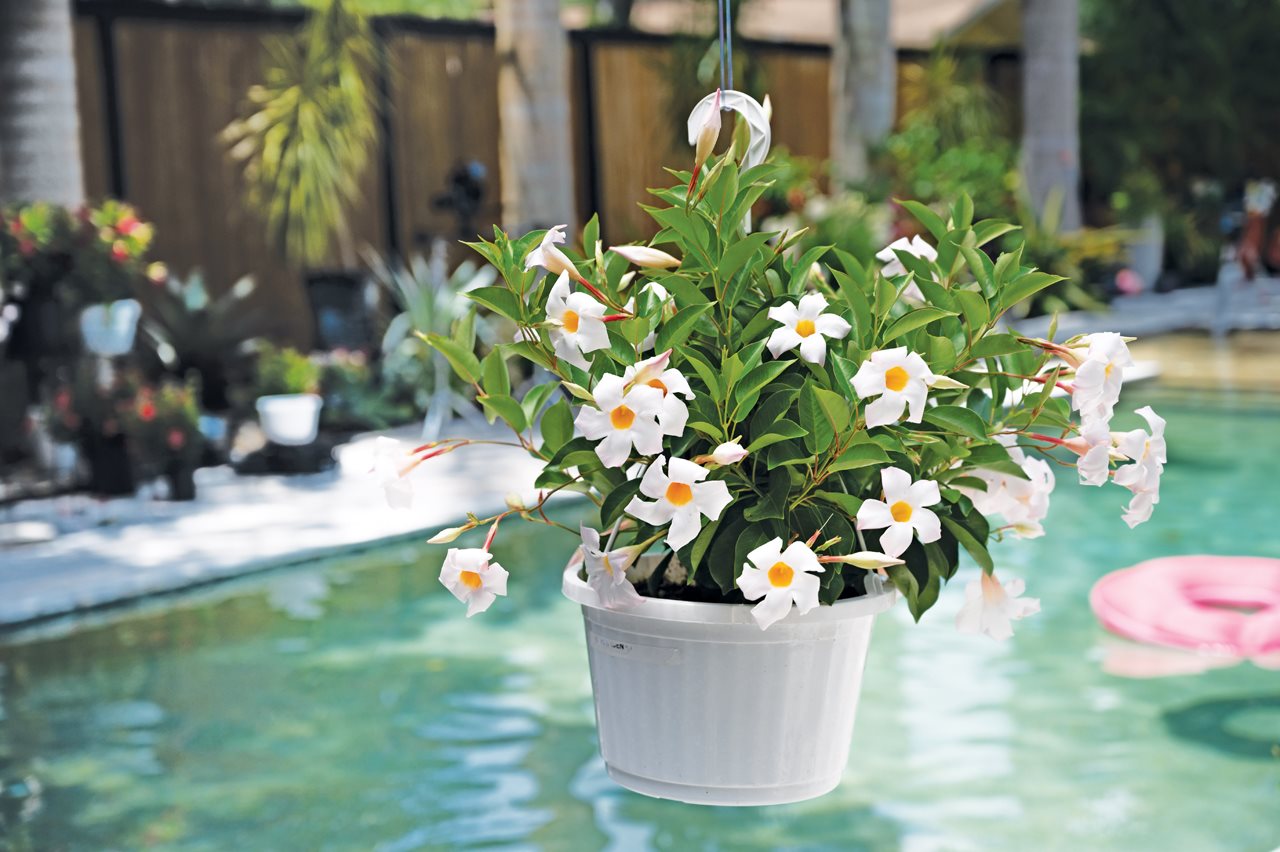 In addition to your climbing and cascading mandevilla blossoms, you can further enhance your space with the more compact, bushy mandevilla varieties in smaller containers on benches or tables, as well as in larger containers around your patio, deck or pool to create a lush, tropical atmosphere. Choose planters in contrasting colors to showcase your gorgeous tropical flowers, like terra cotta, crisp white or emerald green.
4. Complement your blooms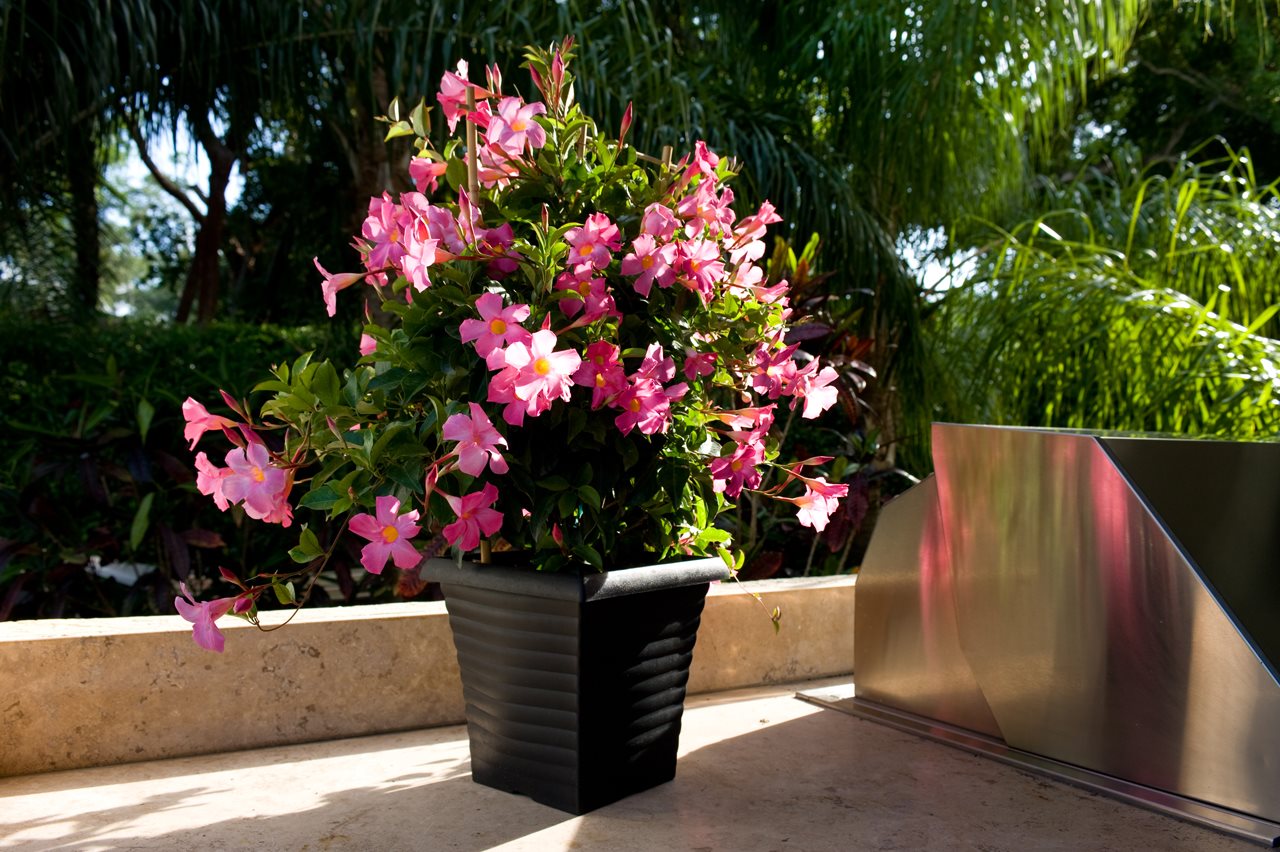 Another effective way to visually highlight your colorful blooms is by contrasting them with containers of rich tropical plants, such as:
Caladium
Coleus
Elephant's ear
Palm plants
Ferns
5. Enhance your senses
Beyond the tropical ambiance you've created with the sight and scent of your beautiful mandevillas, go a step further by considering your other senses, like touch, sound and taste. Add textural touches using natural elements like macrame, rattan, wicker or bamboo, then provide a cooling fan or misters. Create a playlist with tropical mood music to enjoy as you whip up refreshing fruity drinks to complete your tropical paradise.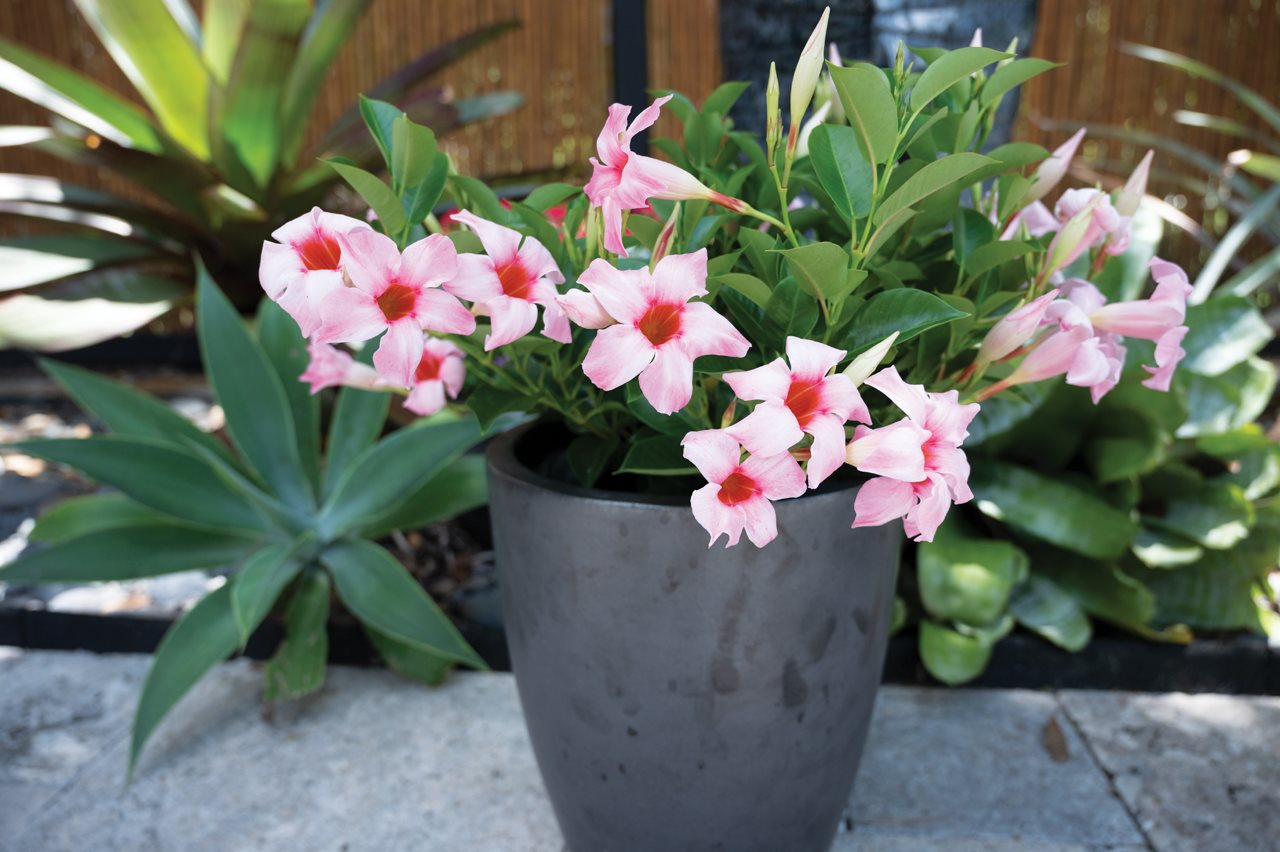 To get started, find Suntory Parasol mandevillas at any garden retailer near you. Visit Suntory Flowers' Instagram page and YouTube channel to pick your new favorites.