(BPT) – Just about everyone likes the look of an attractive, on-trend kitchen. But what truly elevates design is function. Form follows function. So when you dig into the core purposes of a family kitchen – safe food preservation, nourishment for the body and family bonding – it's clear that health and well-being go to the very heart of a well-designed kitchen.
That's exactly what award-winning kitchen designer Sarah Robertson of Studio Dearborn had in mind when she created this high-end chef's kitchen for the 'Whole Home Concept House' featured in the November 2020 issue of House Beautiful magazine.
'A home should work hard for you – bringing you joy, helping you reconnect with family and recover from external stresses,' said Carisha Swanson, senior editor and market director for House Beautiful. 'Nowhere is this more evident than in the heart of the home with a kitchen that is all about bridging the gap between serious workspace and entertaining hub.'
She goes on to say that Robertson, "a storage genius," pulled this off with aplomb, thanks to the thoughtful layout, multi-use appliances, and innovative approach to form and function.
'When designing this kitchen for House Beautiful, my focus was on organization and preservation,' said Robertson. 'An expansive pantry provides quick access to ingredients, a vacuum sealer locks in freshness and purposefully designed column refrigerators and freezers care for fresh food in the best possible way – all linking back to the very best in health and wellness.'
To help inspire your next kitchen update, here are five wellness-centered kitchen features showcased in the 2020 Whole Home Concept House.
1. Carve out special nooks to feed your body and soul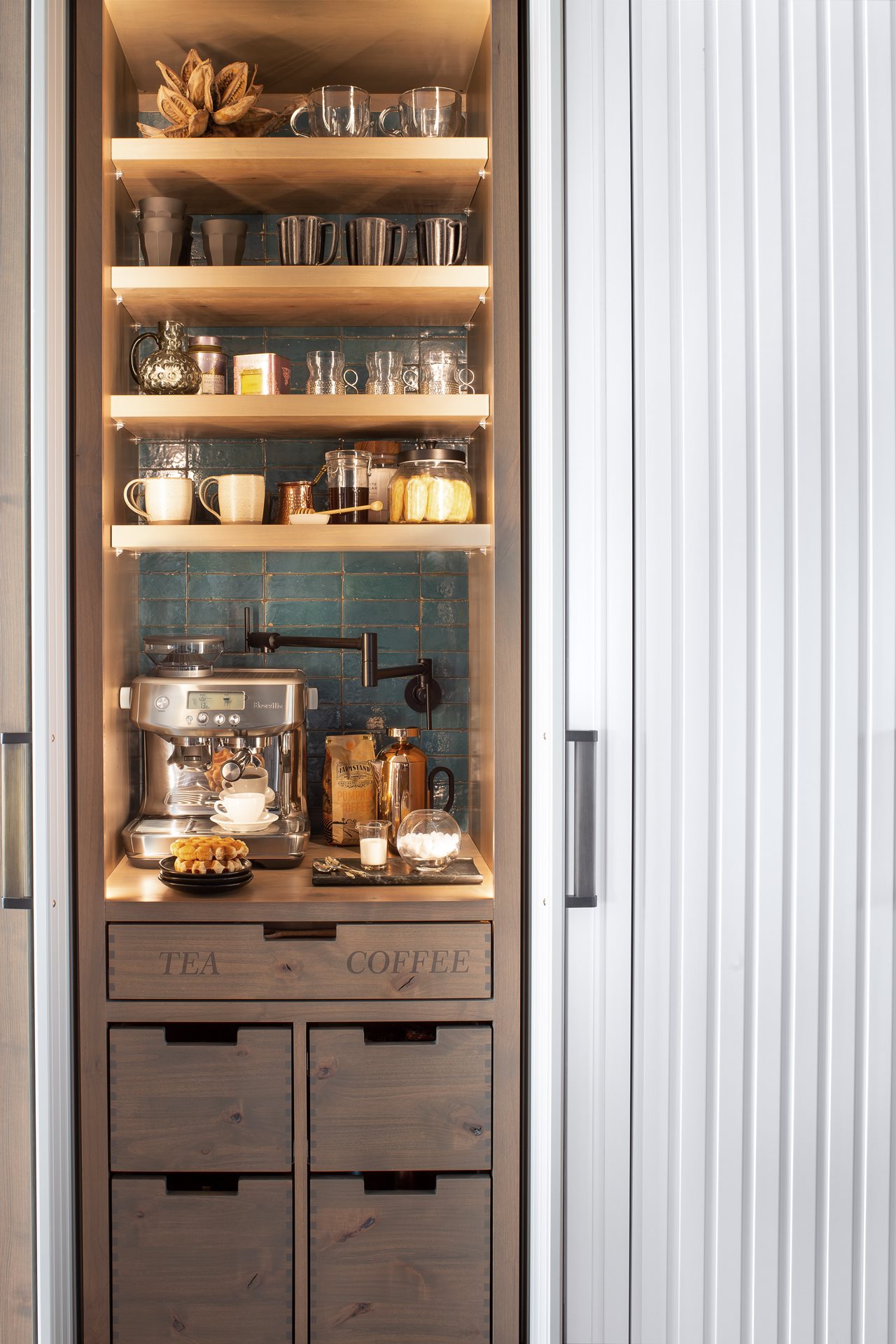 Cultivating happiness definitely does good things for your well-being. So why not dedicate a little corner of the kitchen that takes you to your happy zone? This coffee nook, especially one that showcases a gleaming top-of-the-line espresso maker and canisters stocked with small-batch beans, is just the thing to elevate your caffeine fix. Not a fan of coffee? A sparkling water system can add a fun, flavorful way to hydrate. Or, build a smoothie station to keep your protein powders and frozen fruits within reach of the blender. The sky's the limit!
2. Get the right equipment for healthy meal prep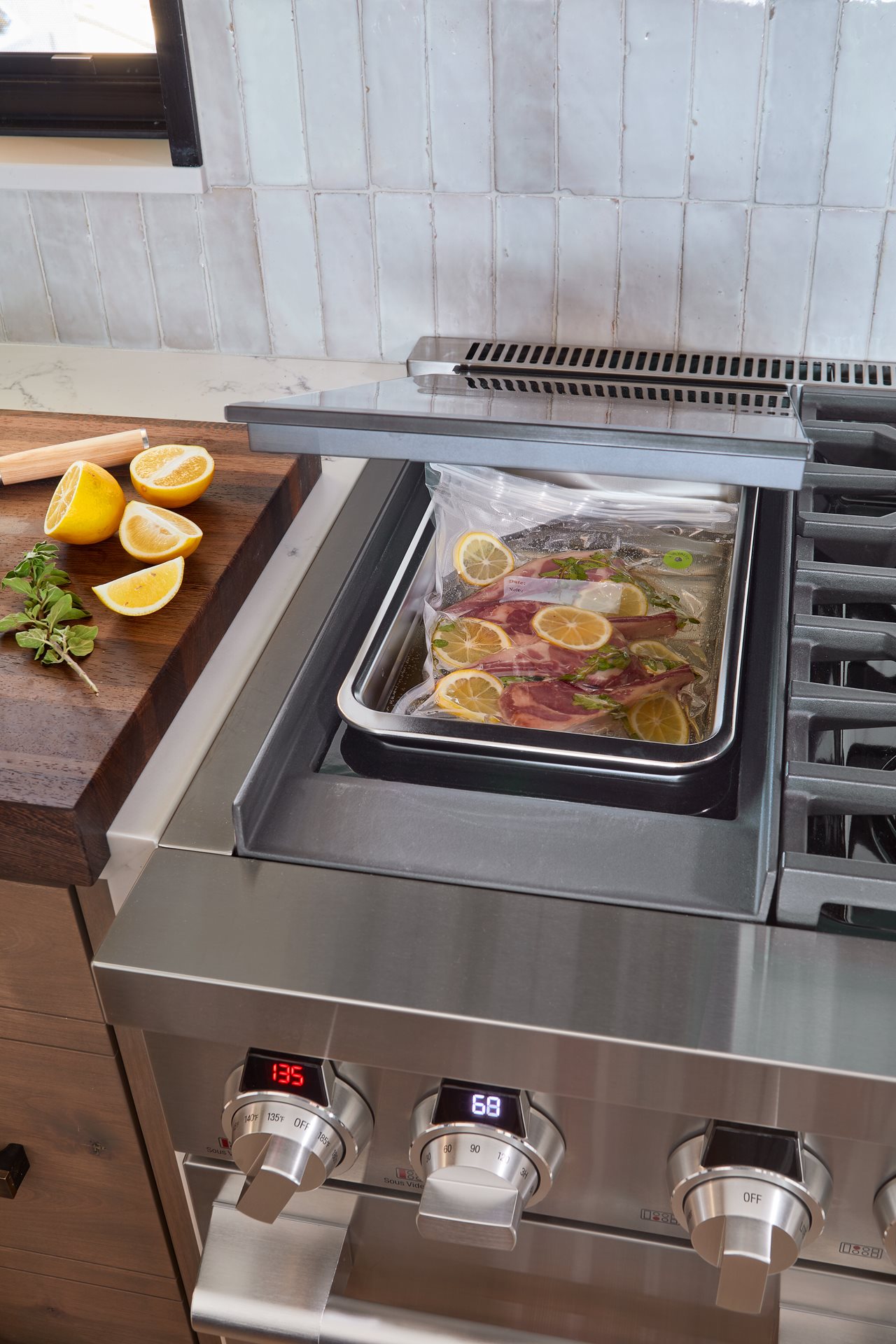 To make the cooking experience easier and more successful, it's important to upgrade tools and equipment – especially appliances you use every day. The centerpiece of the Whole Home Concept House kitchen is Signature Kitchen Suite's award-winning 48-inch dual-fuel pro range, the first on the market with built-in sous vide functionality – in addition to induction and gas, all on the cooktop, plus two ovens below. It's one of the most versatile and diverse ranges available with multiple options for healthy food prep.
Sous vide is a cooking technique where food is vacuum sealed and then submerged in water and slow-cooked at a constant precise temperature until it's perfectly cooked. It has been the go-to method in some of the world's best restaurants for years – and for good reason: it provides delicious, professional-level results, and also locks in all the juices and flavors of the food. This means the minerals and vitamins are sealed in as well, without the need for additional seasoning.
3. Transform the pantry into a multi-purpose preservation space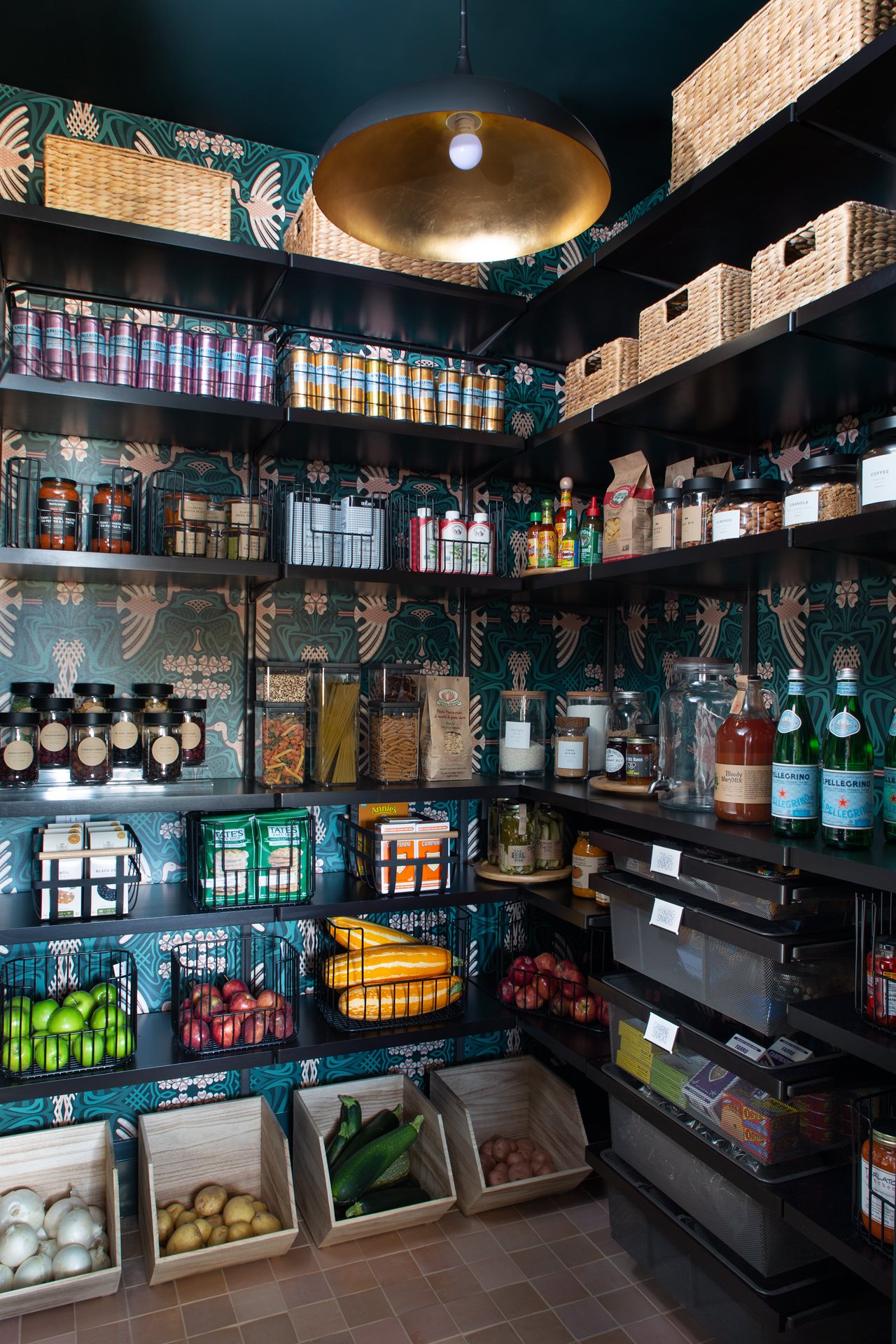 A pantry is more than a place to store your non-perishables. This takes it a step further, making it uber-functional as a food preservation station. Adding a sink makes it easier to keep it clean as you work. A built-in vacuum sealer lengthens the life of fresh fruits, veggies and fish from your most recent farmer's market haul. Finally, what better place to tuck away your compost bin than a pantry? Once food prep is done, simply brush food scraps into the nearby bin to edify the next generation of fresh veggies.
4. Keep essential tools within reach at your workspace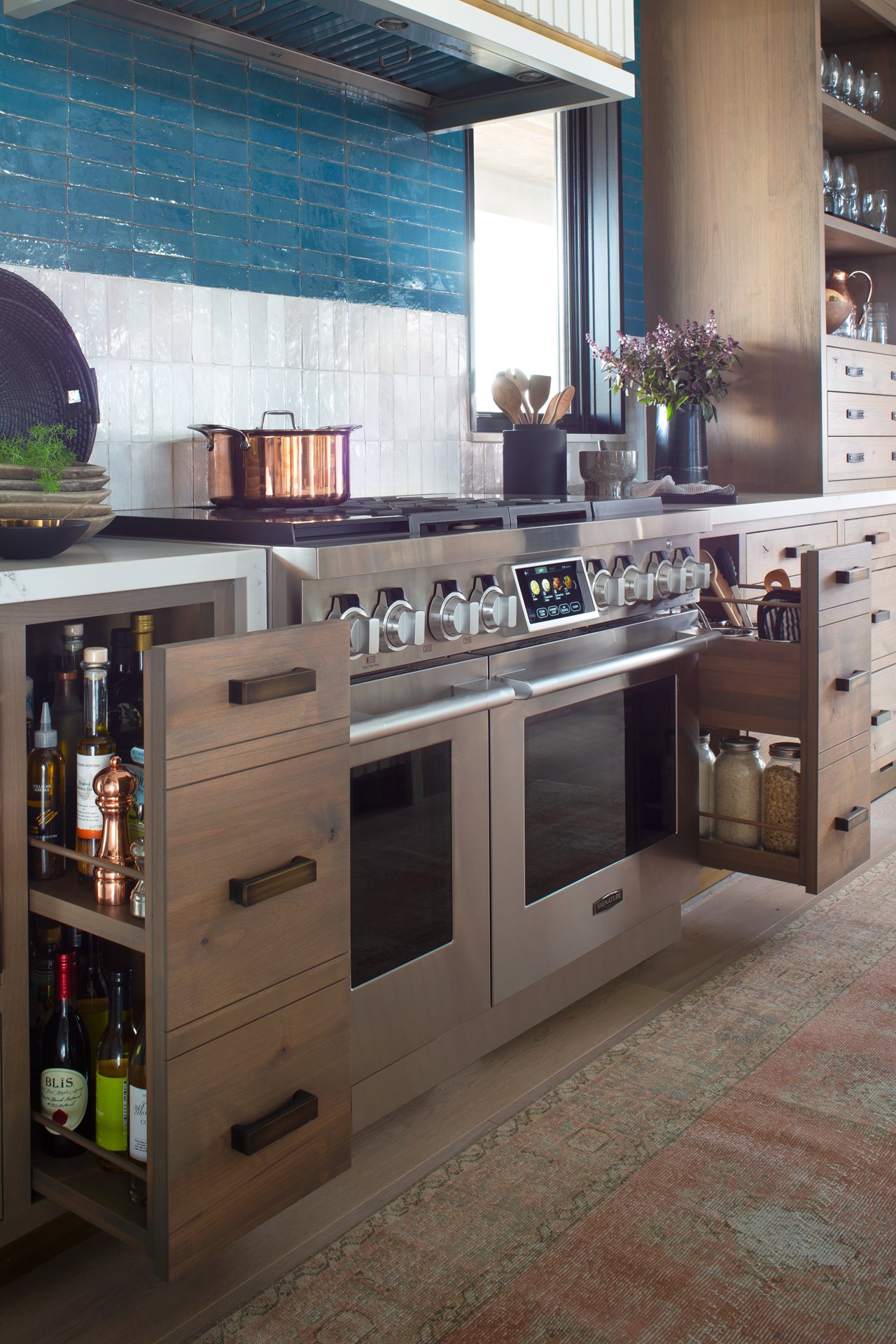 Now's a perfect time to rethink your kitchen's layout. Keeping your tools, spices and oils within reach of the stove will streamline the flow of your kitchen, as shown in these deep pantry-style drawers. Not only that, eliminating the interruptions just makes meal prep more enjoyable – freeing you up to be truly present while you cook!
5. Pin down your storage scheme and lock it in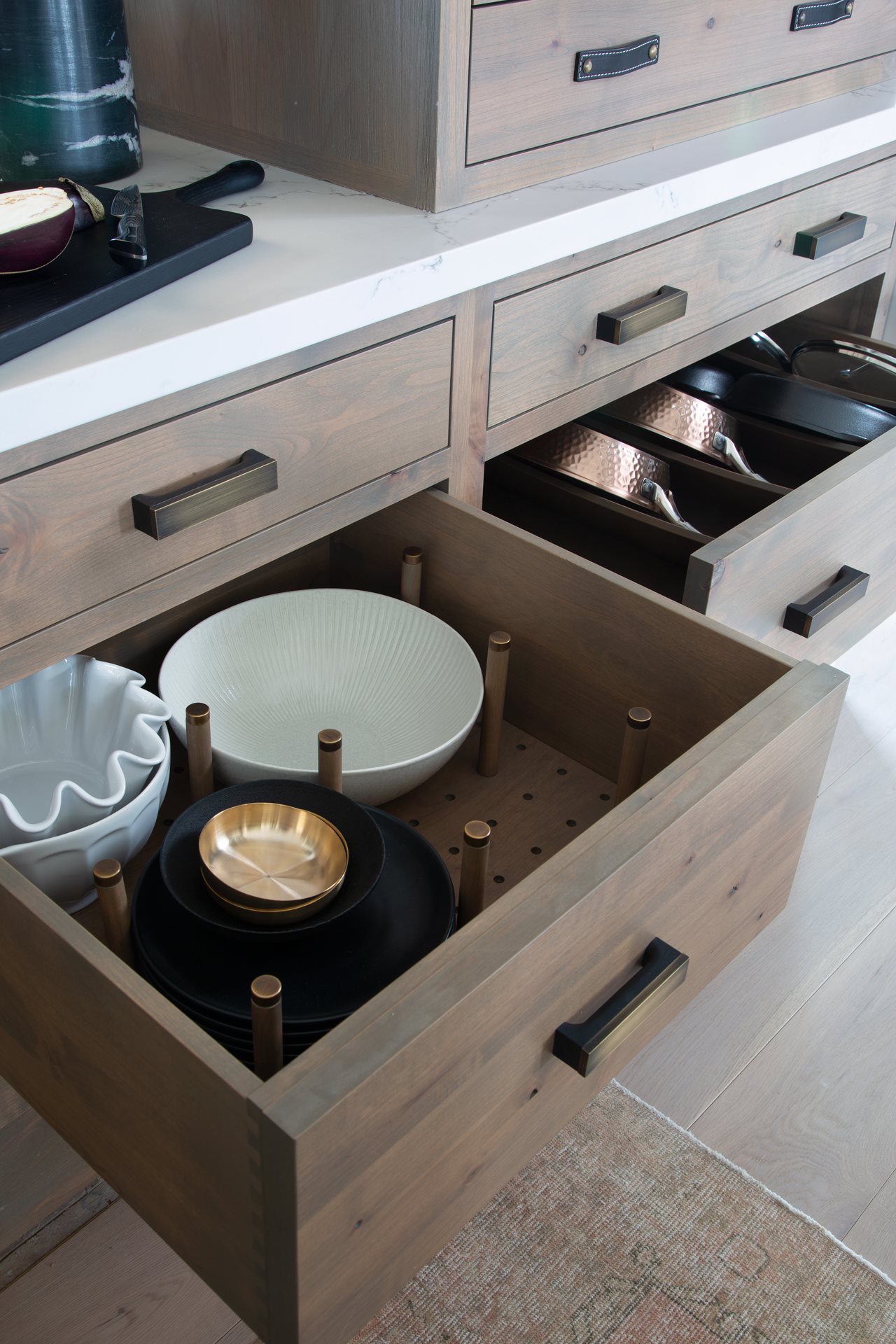 If you have multiple family members assigned to cleanup duty, you've probably run into the problem of cookware and utensils finding their way into some very odd places. Organizing tools, such as these pegged drawers, can do away with the chaos, making the kitchen a happier and more harmonious space. These inserts stake out customized, specific spaces for pans and other cookware, while also holding everything in place.
The kitchen is the heartbeat of every home, and with these ideas, you'll be on your way to making it into a more functional space that puts the health and well-being of your family first.
For more inspiration and ideas, visit Housebeautiful.com/wholehome. To see how the Whole Home came together – and watch all the chaos and magic unfold – tune into the second season of House Beautiful's series 'Building the Dream,' currently on YouTube, and airing later this year on Amazon Prime. Hosted by House Beautiful market director Carisha Swanson, the twelve-episode weekly series highlights an individual designer's or designer team's process for creating, managing and finally installing their room. You can tune in each Thursday at 12:00pm ET for a new episode here.